The weekend of Sept 17th was definitely a Digiteach weekend – in Dingle! A bilingual CESImeet, combined with courses in Moodle and IWB, provided a cracking weekend of CPD for those from far and wide who attended.
The CESI Meet was held on the Friday night in the Dingle Skellig Hotel, a wonderful location!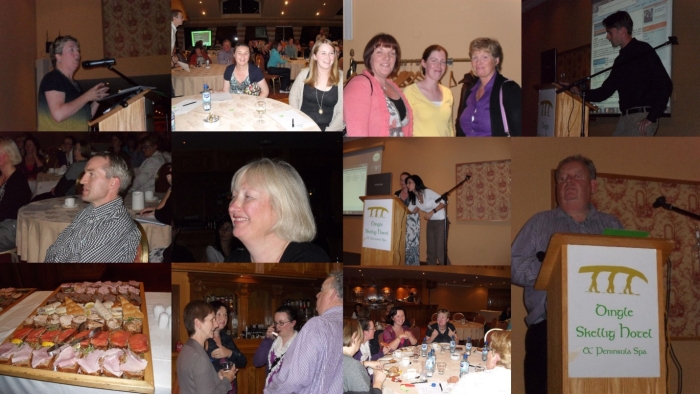 Once we got over the fabulous views from the ballroom and got down to business, the teaching and learning and sharing flowed. We had a classic CESI Meet consisting of mini-presentations, nano-presentations and longer conversations on topics as diverse as images to engage in the classroom, moodling, engaging the gifted child, innovative use of spreadsheets, exploiting animation, storytelling, language education, quiz making and a lot more.
Many thanks to all those who presented on the spot  – Joseph Terry, Deaglán Ó Deargáin, James Corbett & Margaret Keane, Huw Roberts & Brenda Walsh, Declan Whelan, Laura Ginevra, Adrienne Webb, Mary Becker, Mags Amond, Pat Seaver, Bairbre Ní Choisdealbha, John Hennessy and Thomas Sheppard.
We also had remote presenters – Stephen Byrne via Skype, and the highlight of the evening for many was the remote video presented by Ban Ryan showcasing interactive education in the primary classroom. Ban showed us her small students quite happily using technology with ease, and some of her top sites are listed here.
In between the learning and the chat we had some lovely food and a few visits to the bar. It certainly was a lovely atmosphere in which to teach and learn from each other. All links to presentations are bookmarked at the CESIMeet Delicious site: http://www.delicious.com/cesimeet/CesiMeetDingle2010
Next morning, (having first visited with local celebrity Fungie), we repaired to Pobalscoil Chorca Dhuibhne, where two course took place. Clare Wallace led us through the Moodle maze, and Joan Maguire put the IWB through its paces.
These morning courses rounded off a terrific weekend of top quality CPD by teachers for teachers. We even made the local media, featuring both on Radio na nGaeltachta and in the local paper!
CESI is truly indebted to the both Principal and staff of the school, and the management and staff of the hotel for facilitating this great weekend. In particular we salute local executive member Pádraig O'Dubhaigh for taking the lead in bringing the CESI Meet to the Kingdom.
Mmm…makes me wonder where we're off to next?