I like that I can install free* software on as many computers as I like without the need for serial numbers and online verifications. I like that I can install free software on my students laptops. I like that I can give copies of free software to students & teachers so they can install the software at home and therefore be using the same applications at home as in school. I like that I can do these things without concerns about software piracy or breaking the law, or the need to juggle the numbers trying to find a way to pay for it all – especially in these cash strapped times.
Does free software meet all the needs in my school – no, and I don't expect it ever will. If I need to edit video then I'll do it with iMovie on an Apple. The music teachers in my school would have my hide if I tried to remove Avid's Sibelius music notation software from their machines. However for many tasks free software does the job and should be considered seriously. Not having to spend money on software for bread & butter activities leaves me with more money to spend on hardware or specialised software that does not have a suitable free alternative.
There are many free applications out there and most of the best of them are available at http://www.schoolforge.net/ . I'll just talk about two, the ones I use most often, OpenOffice.Org and Google Apps – the first free as in "free speech", the other free as in "free beer"*.
OpenOffice.Org
The suite has six full-blown applications: the Writer word processor, Calc spreadsheet, Impress presentations program, Base database program, Math equation editor, and Draw graphics program.
It will open and save in a wide variety of file formats including the main Microsoft Office ones, .doc, .xls and .ppt. It can export directly to PDF. Presentations can be exported to SWF (Flash) for easy posting on the web. It even opens the new Microsoft Office 2007 file formats .docx, .xlsx & pptx so you can save them in better supported formats.
The word processor, spreadsheet and presentation programs I use daily to get my work done as do students and teachers in my school. If you want some extra fonts, templates and clipart then you can opt for StarOffice 9 which is based on OpenOffice.Org 3. It can be downloaded from www.sun.com/staroffice for €27.
Full reviews here
*  http://blogs.computerworld.com/review_of_final_openoffice_3_why_buy_micr…
* http://www.dedoimedo.com/computers/open-office-3.html
Google Apps for Education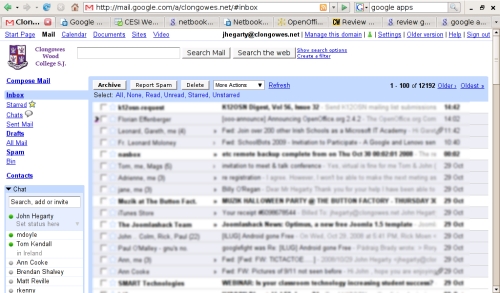 Built around their email offering, gmail, google have built a series of online applications that allow you to work on documents, spreadsheets, presentations and collaborate with others from any computer with internet access without the need to install anything. You can set this up with your domain so you end up with email addresses for staff and/or students of the form jbloggs@myschool.ie . You can have as many accounts as you need with 7GB of space per account. You can incorporate your school crest and turn off the advertising you normally get in free gmail accounts.
Email is now the standard means for communicating information and news among staff in my school. We run over a dozen mailing lists and if anyone needs to get information to staff, in or out of term, then email is the most effective way of doing this.
I was working with transition year students on video editing a couple of weeks ago. As part of the planning process each group of 4 students had to work together to produce a presentation giving the storyline, camera shots, how long each scene would last, who would be doing what and so on. So each group used a single google presentation where each member could edit the content. The presentation is shared with me so I can see their progress and add comments.
This article was created as a google document and while it is a pretty basic word processor, compared to OpenOffice.Org Writer or Microsoft Word, it is functional and easy to use. If I was told it was the only word processor available for my work, I'd get by just fine. The only feature I would really miss would be the ability to do a mail merge. I can export as a Word document, or PDF file, email as an attachment or share the document online for others to view or edit directly. In fact I can share it with others so they can view and/or edit it while I am working on it as well, with all the edits and updates appearing on all screens as we work together.
And Finally ….
So that is a quick look at a couple of the free alternatives we use heavily in my school. I commend to all to look at the free options.
Notes
Some may cite privacy concerns with gmail. Arguments for and against below
* http://mail.google.com/mail/help/about_privacy.html
* http://en.wikipedia.org/wiki/Gmail#Criticisms
If you are considering using Google Apps in your school then you should make yourself aware of the issues.
* There are all kinds of arguments about free as in "free beer" Vs free as in "free speech". If you want to understand more on the importance of this go to http://www.wired.com/wired/archive/14.09/posts.html?pg=6 where Lawrence Lessig explains all.